This year, I wanted to make my lawn look better. So I decided to test out the Hummert and DynaGreen products that Toby Tobin endorses, which we sell at Porters. I have always heard good things about the products Toby Tobin endorses and I have sold several of them myself. So I will be posting updates as to what fertilizers and other lawn care products I have been using and what my results are with each.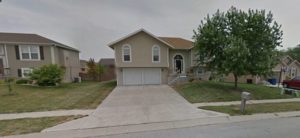 This was my lawn last year when I used no product. A sorry sight indeed.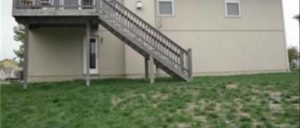 The first step in making your lawn look better and making your lawn healthier is good practices. These are some things you might ask yourself at the beginning of Spring and the answers to those questions:
Q. How often should I sharpen my mower blade?
A. You should sharpen your mower blade every 10 hours of use. A dull mower blade will shear the grass blades inviting disease into your lawn. Keep that blade sharp!
Q. How do I change the oil in my mower?
A. You should change the oil in your mower typically once per year. Most mowers will use a standard 30W oil. Simply drain and fill. The only reason you should need anything else is if the manual says specifically, or you plan on mowing in cold weather, which is doubtful.
Q. How tall should I let my lawn grow?
A. You should set your mower on the highest setting typically, but especially in the hotter months. 3 ½" is the desired length. This will keep your soil cooler, and prevent weeds from sprouting up over the grass. One short mow in early Spring is acceptable to promote growth and aid in dethatching/aerating.
Q. Do I need to bag my lawn clippings?
A. If you plan on mowing regularly, bagging your lawn clippings is actually the wrong thing to do! Small clippings decompose quickly and act as a natural fertilizer, recycling nutrients into your soil. If you let the grass grow too long and end up cutting off more than a couple inches, they will not decompose as quickly so you should bag the clippings.
Early Spring is the time for over-seeding, aerating, and dethatching if you choose to do them. I did none of these and instead used Earth Right Super Stuff to condition the soil. This product is made locally and helps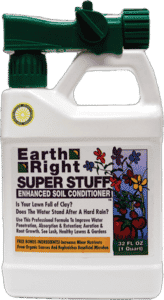 turn our Clay County clay soils into rich, easy draining, healthy soil. If you do aerate or dethatch, use this product after. It is important to water this product in, and use double rate on first application.
Next I applied Dyna Green Step 1 Dimension fertilizer with Crabgrass Preventer (Yellow Bag). Unlike most pre-emergents, Step 1 can be put down all the way into mid-April and still be effective.
Here are my results on making my lawn look better, thus far.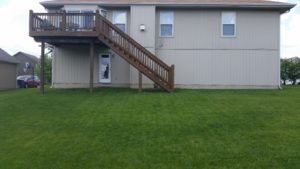 Update:
After my impressive Spring results, I was excited going into the summer. I applied DynaGreen Step 2 – Long Lasting with Umaxx. For step 2 there is a choice between Long Lasting and with Viper. Viper is a broadleaf killer making it a commercial "weed 'n feed" product.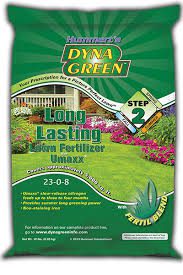 Use with Viper if your lawn is over 25% weeds. If your lawn has some weeds, but not 25%, the fertilization along with a little bit of spot spraying will take care of your weeds. In addition to Step 2, I also put down a small amount of Pelletized Gypsum. Gypsum will aid in composting and aerating the ground. Since this year was my first use of Earth Right Super Stuff, I decided the gypsum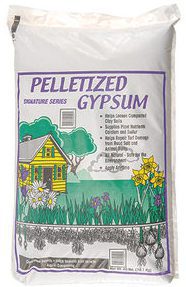 would aid in getting my soil loosened up a little faster. You really can't put down too much gypsum, and you really don't have to put down as much as the bag says. Any amount helps and if you use as much as the bag says it will feel like a ridiculous amount to put down.